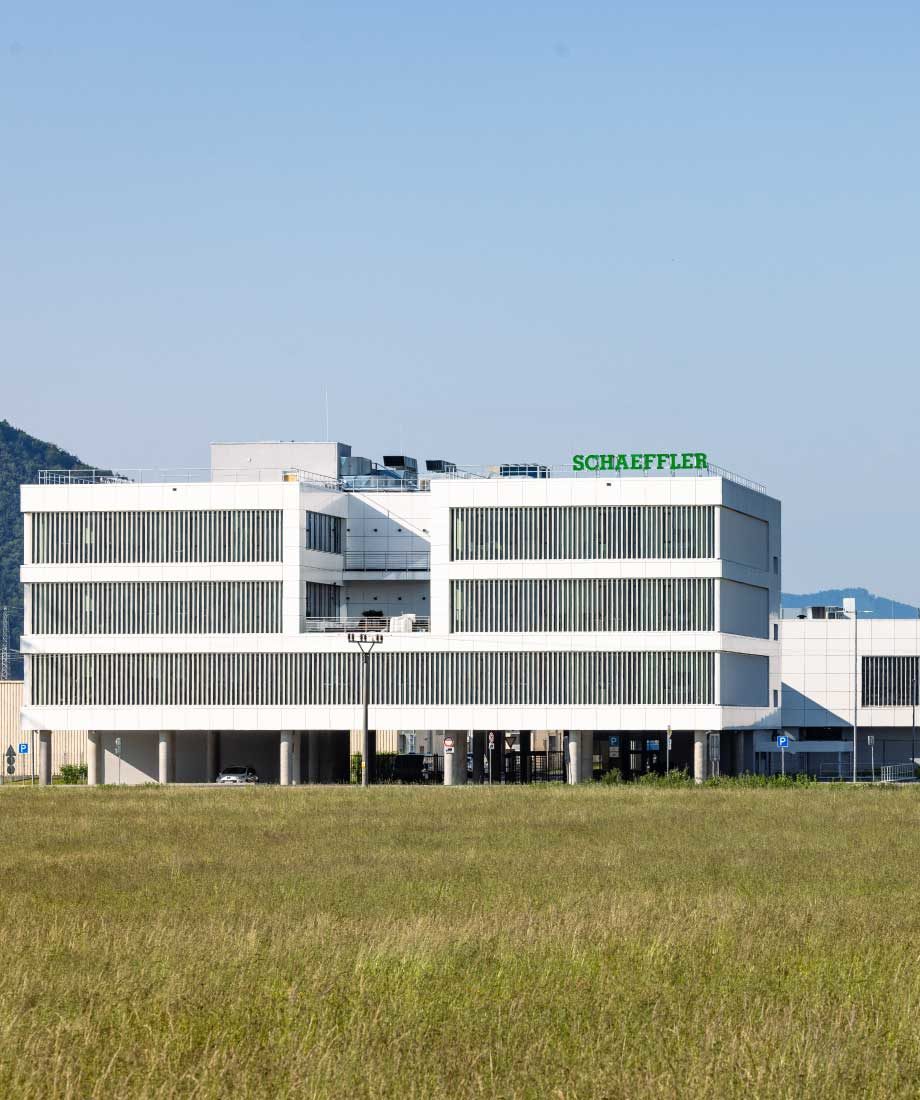 Developing innovative solutions for vehicles of the future
At the Schaeffler Kysuce research and development centre, we develop products for electromobility and chassis systems with a high degree of autonomous driving. Our specialists focus on the development of powertrains for hybrid and electric vehicles in order to achieve sustainable mobility in the future.
We are dedicated to the development of systems and software, their simulation and testing, hardware design and design of mechanical products. In addition, we deal with a complex range of activities in the field of project management for international customers from the automotive industry.
The center is part of the premises of the production plant, which already produces precise products and complex systems in the field of electromobility for engines, transmissions and chassis. Electric axle parts, a modular, highly integrated technology platform for electric motors, hybrid drive units, fully electric axles, electric parking brakes, mechatronic vehicle roll stabilizers or modular clutch actuators for hybrid vehicles. The close connection of development and production in one place is a great benefit. We can introduce new products to the market in a shorter time and enhanced quality.
Today, 350 colleagues are working on interesting projects, which will be joined by another 150 developers and specialists by 2025.
Research and development on the space the size of a football field
The research and development center covers an area of ​​about 8,000 square meters. Of these, 4,000 m2 is for a four-story administrative building with newly built modern offices with an area of ​​4,000 m2 that comply with the latest trends in flexible and digital collaboration.
Another 4,000 m2 are testing areas with state-of-the-art technologies, test stations and laboratories.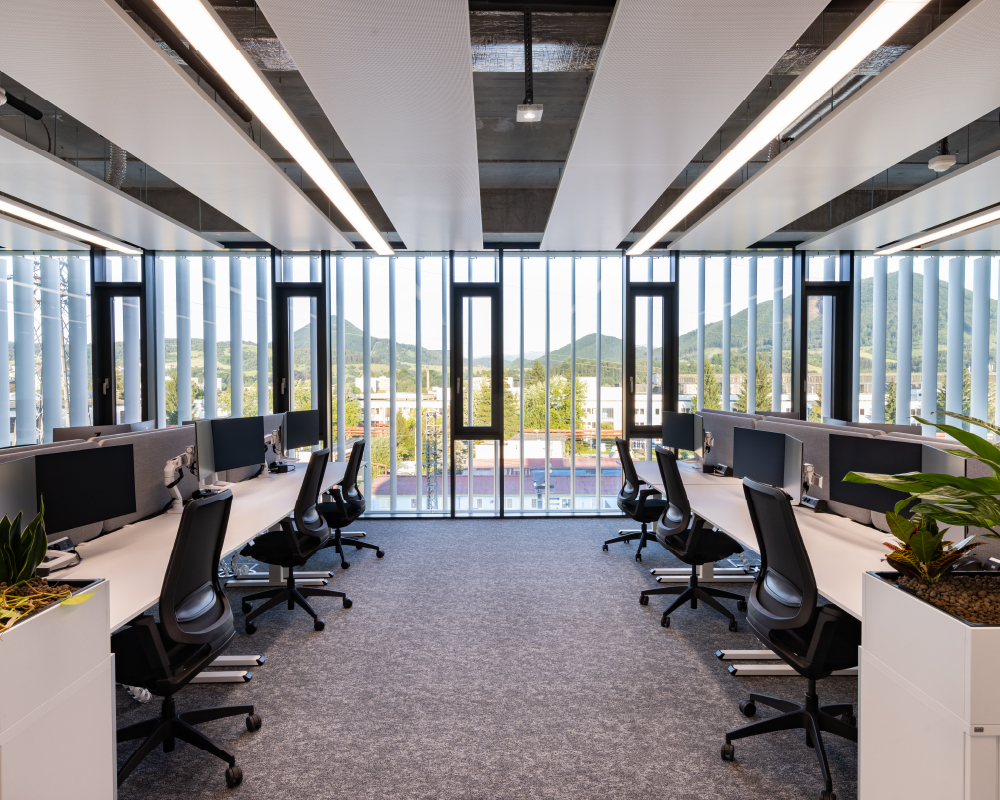 Inovative solutions for vehicles of the future
Our current focus
Drive units for electric cars are getting more and more complicated and complex. We deal with the development of system designs from the perspective of mechanics, electronics, hardware and software. We then make simulations and test them according to the specific requirements of international customers from the automotive industry.
Today, for example, we are developing a two-in-one electric axle that combines a transmission and an electric motor into a single unit. The next stages are three 3in1 type drive units, which also integrates power electronics, and 4in1, which also includes a thermal management module. This is just one example of the type of assignments for which we have competence and where we want to continue to grow.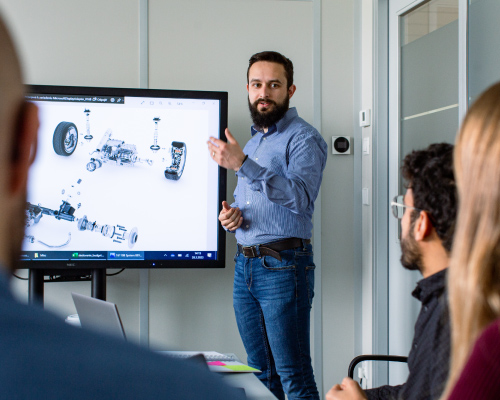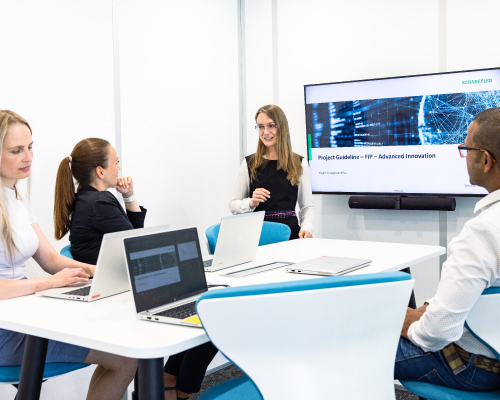 What makes us unique?
The Kysuce think-tank is part of the international network of R&D centers of the Schaeffler group.
More than 8,000 employees work in 20 research and development centers in different countries, more than half of which are dedicated to electrified powertrain solutions, mobility solutions and innovative chassis solutions for our customers around the world. Development centers for modern drive systems and mobility solutions are located, for example, in the cities of Wooster and Troy (USA), Puebla (Mexico), Bühl and Herzogenaurach (Germany), Szombathely (Hungary), Svitavy (Czech Republic), Pune (India), Seoul (South Korea), Yokohama (Japan), but also Taichang and Changsha (China).
Modern offices
Our new four-story research and development center building was designed according to the Schaeffler New Work concept. Its design and equipment are adapted to future work trends, forms of flexible and digital collaboration. Here you will find modern office equipment, separate zones for communication and collaboration, but also common spaces where employees can build contacts with each other and share ideas.
Important attention was paid to sustainability during construction. High-quality and sustainable materials were used in the production of furniture and building equipment. Chairs and armchairs are, for example, made of recycled PET bottles. Photovoltaic panels on the roof of the building are primarily connected to ventilation, and the center is heated using heat pumps. There is also an internal atrium with a green roof or charging stations for electric vehicles.
Testing capacities
The Kysuce think-tank is part of the international network of R&D centers of the Schaeffler group.
Our research and development center in Schaeffler Kysuce also includes extensive testing areas on an area of ​​4,000 m2. Here you will find the most modern technologies, measuring systems and stations that meet the strictest safety requirements. Thanks to various climate, shock or salt chambers, dynamometers, shaker or double pulser, we are able to perform more than 100 different tests and simulate resistance to external influences or vibrations. In most cases, we do simulations and test prototypes for hybrid and purely electric vehicles according to the specific requirements of international customers from the automotive industry.
"I am convinced that the complexity and interest of the work offered by our research and development center is unique for Slovakia. I believe that the opportunity to develop technological solutions for electromobility and intelligent chassis solutions will be a motivation for many talents to come and work with us in Kysuce. We certainly have the potential to attract talent who were looking for similar opportunities in the world and decided to return home."
Milan Jurky
Managing Director & CEO at Schaeffler Kysuce
"At Schaeffler Kysuce, we are already developing complete integrated electric drive systems, which is a demanding system with the highest degree of integration of electric motor, electronics, mechanics and software. We have top people who manage the industrialization of new products and complex solutions for the vehicles of the future."
Ján Klimko
Research & Development Manager at Schaeffler Kysuce
Sign up to receive our newsletter
Are you interested in e-mobility, innovation or opportunities for professional growth in this area at our Schaeffler Kysuce Research and Development Centre? We only publish our newsletter on a monthly basis, so you can rest assured we will not be spamming your mailbox.